Hello my name is Nerida,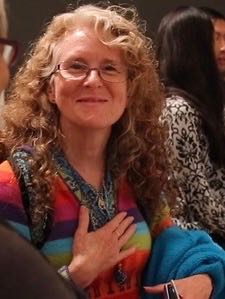 Growing up in a small town in North Queensland, after school I became a florist and straight into parenthood, my kids became a priority focus for me, opening a deep recognition of the importance of this role and a soul searching longing to better myself, to want to be a better example and to contribute positively to their future.
I came across the Violet Earth, now the Cosmosis™ Mentoring Centre in the very early stages of its development; I became a Founding Member and began my training with Michael King and Linda Koen, in the area of Personal and Spiritual Growth and Development, Seership and Course Development. A wonderful experience coming on board in the early stages of a new project, we become multi-skilled through our commitment and passion to share and give back, as well as what we bring to the table, we also do what needs to be done, a wonderful journey of unfoldment and growth.
I was quite at home in the 'bigger picture'; my challenges came in grounding and being present, I found through facing and overcoming fear and challenge is where I can bring and teach that which I most need to learn; the importance of gaining and maintaining a strong healthy foundation of self-esteem within which to ground and anchor our gifts and abilities and that which we bring to the world in authenticity through our source presence.

Through embracing my own journey and walking the talk of choosing love and truth within my sphere of influence as a parent, personal and spiritual growth teacher, healer, life coach and mentor, I experience my mission as sharing basic grounded tools for 'transformation through heart mastery' toward the education and upliftment of humanity, to awaken in remembrance of the Spirit within.

Through my life experience, choosing to be accountable and responsible for all my thoughts, words and actions, making mistakes and seeing them as opportunities to learn and better fit myself for service. To experience on both sides of the healing journey, 'Healer heal thyself'; the incredible importance of a Healer holding a space of unconditional love and non-judgment, 'instilling hope' within their patients/clients and sphere of influence, the importance of acknowledgment and acceptance creating in its simplicity an incredible depth of healing; to experience intense hope; the upliftment, courage and self determination this can generate; undergoing my own healing journey, experiencing first-hand the incredible healing in receiving this gift from a Healer and as a Healer, to be able to facilitate this for another is my deepest heart's desire.

Through the Cosmosis™ Mentoring Centre and Arcturian Light, I have found a place where I can share my unique inner plane connection to the Arcturians, this is a space where I can open my heart, learn, grow and give back to humanity and the planet in a very real, integrated and grounded way.

My passion is in the area of 'remembering the sacredness and importance of parenting and education of the child as being a key to our future'. I find myself drawn through life coaching and mentoring within the CMC Coaching and Mentoring Programs, overseeing the CMC Level 1 programs, I deeply love working with a wonderful group of people situated around the world, having my own Level 3 and 4 Mentoring Students, consisting of a wide range of qualified people seeking a Spiritual perspective to living their lives authentically and more in touch with a love of service, in bringing love and heart mastery to both their personal and professional lives, I am also working with our qualified School Teachers, exploring their own psychological clarity and working with CMC material and foundational processing tools to enhance their work with children and parents within the school system. It's a special area of interest for the Arcturians, the education and well-being of the young upon a planet is a key to growth, upliftment and enlightenment of future generations.

With my oldest children, grown up now in their late twenties and early thirties, I spent their school years as a parent helper in the class room and extra activities with the children. Later on through my youngest child's school years, I worked as a volunteer mentor with 'The School Volunteer Program' in WA schools, along with working for over 16 years with children and parents facilitating 'Kids Meditation and Self-Esteem' classes and sessions.

Along with parenthood and life experience, I also hold government recognised qualifications, a Cert IV in Life Coaching and Mentoring, a Cert IV in Training and Assessment, Senior First Aid and I have a 'Working with Children' Clearance.

I facilitate through my inner plane connection with the Arcturians, 'Inner Time Healing', both remotely and hands on energy body healing and clearing. I only facilitate the hands on healing with our students in the CMC Mentoring Programs from level 2 and up as I feel the support they receive and the follow up with simple tools and clearing processes is most beneficial to really work with and embrace this kind of healing to receive the most benefit. I also have available a growing series of healing/clearing/meditation CDs, which are various Healing Journey's with the Arcturians.

I enjoy very much my roles and responsibilities as a member of the Core Group within the Cosmosis™ Mentoring Centre, through peer support, ongoing pioneering, growth, exploration and expansion of the wonderful processing available to CMC students, also working in Course Development and more of doing what needs to be done.

I share often, 'the journey begins as it continues', welcome to here now!

Blessings of Arcturian Light,
With much love and gratitude,
Nerida